Who is eligible?
This grant program is available to researchers at any health system that is affiliated with AHE. Affiliated institutions include: Children's Hospital of Philadelphia (CHOP), the Corporal Michael J. Crescenz Veterans Affairs Medical Center, Drexel University, Jefferson Health, Main Line Health, Penn Medicine, Philadelphia College of Osteopathic Medicine (PCOM), Temple Health, and Trinity Health Mid-Atlantic
How will funding be dispersed?
Funds will be dispersed in full at the start of the one-year project cycle. Applicants are required to submit budget projections with their applications and a spending breakdown in the close-out report. Funds may not be used for institutional indirect costs.
(Please contact us if this will make you ineligible based on your organization's policies.)
What are the reporting requirements?
Grant recipients will be required to report quarterly updates to the AHE Grant Committee to review and discuss progress. Grantees will also be required to present a 6-month progress update and a year-end final report to the AHE Steering Committee. A written Final Report will be submitted to the AHE Grant Committee within 3 months of the project cycle completion.
What does the application entail?
You can view and download the application document here. You will need to submit this document as part of your application through the portal.
How do I apply?
Please apply through this link. See below for detailed instructions on how to navigate the application portal:
1. Create an account to access the portal
(Please note: the account used to create the application will be designated as the "Lead PI" on the project)
2. Click on "Apply For Grant Funding" on the left-hand menu
3. Choose AHE Gun Violence Prevention Grants Program and click "Apply"

4. Enter your project's Title and Lead PI information and click "Begin Proposal"
(Lead PI info should autofill based on your account information. The Lead PI role can be reassigned later)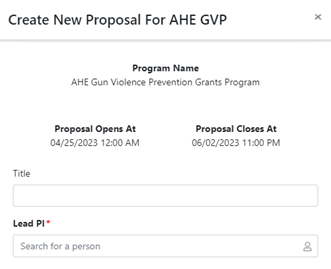 5. When you are ready, please upload your application and all supporting documents directly for submission
When can I expect to hear a funding decision?
Applications submissions close on June 2nd. We expect decisions on awards to be announced by July 28th.
What if I have additional questions that weren't covered here?
You can email us at info@ahephl.org with any questions and we will get back to you as soon as we can!